Muscle cars for sale
2003 Dodge Viper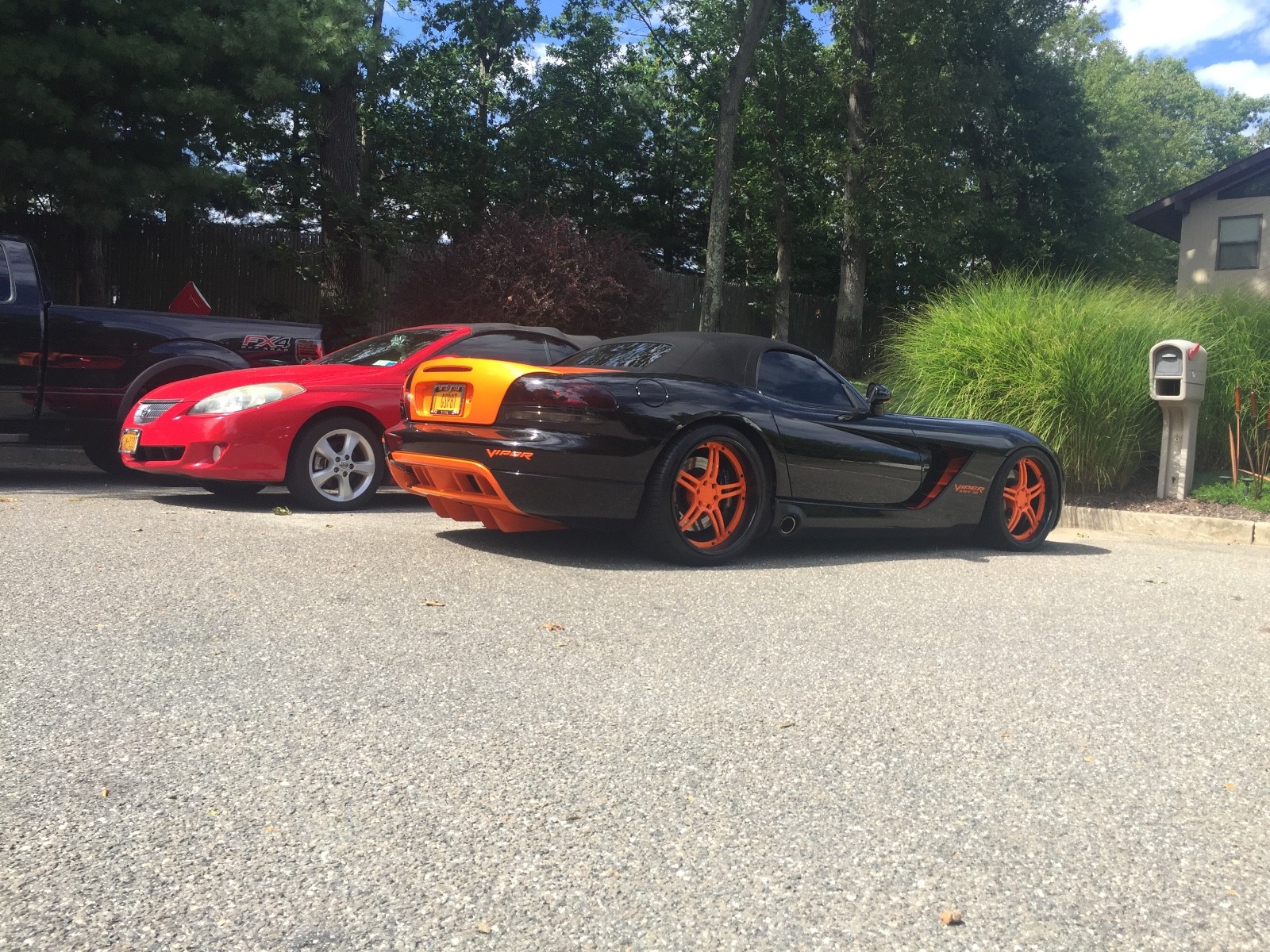 Up for sale is a black and orange 2003 Dodge viper SRT-10.After searching for months to find a clean low mileage viper with the mods I wanted I finally ended
up purchasing thiscar Novemberof 2013 with 12,500 miles on her.The Viper currently has 19,xxx miles. I purchased this car from the second owner, here in this case he has owned the car since the end of 2003 which makes him the owner for almost 10 years. This owner had the car shipped to JMS CHIP andPerformance to install the Paxton set up with supporting mods.After I purchased my Viper I spoke to chuck tator and was sent to Gjon, he is the owner of Powerhouse Motorsports tohave the car looked over and write a conservative tune on the car. The Car put down 658hp and 654rwtq on a conservative tune at 6.5lbs of boost. I have all the paper
work for the Paxton install, clutch, and other supporting mods.
This Viper has the following mods.
Motor:
~Paxton Supercharger with 6lb pulley ($13,411)
~VEC 2 Engine Management ($1500)
~SnowPerformanceStage 2 Water Methanol Injection- Owner paid extra to use factory windshield washerreservoir
~BBK twin blade throttle body
~B&B Stepped headers ($3,500)
~Corsa Track exhaust system ($1250)
~Centerforce Dual Friction Clutch
~ Aluminum Flywheel
~ EibachSpringsand Caps
Wheels:
~20 inch 360 Forged Spec 5 wheels custom painted as well.
Nitto invo tires 285/25/20 up front and 345/25/20 less then 5K miles on set up
Interior:
~ Center Console is wrapped in Carbon Fiber
~ OrangeStitchedShifter boot
~ MGW Chrome Gauge Bezels
Extras:
~ Tinted windows 20%
~ Tinted Tail lights (Can be removed)
~ MGWLicenseplate Frame
~ MGW first Strike Shifter
~ custom painted ACR stripes and full expel clear bra on front bumper and side sills and quarters. Paint professionally corrected and detailed.
~Custom painted Viper Side badges
~ Calipers Painted to match paint fromstripes
The car idles high but with the ac on it idles normal The car also needs to have either the throttle body step count reset or car just retuned.
I'm sure there's more I'm forgetting will update when I can
No trades and only test drives with cash in hand.
I have tons of pictures and videos that i can email or text.
Fully documented car with all receipts in a binder and window sticker and shipping label in frame.
Hard top for sale in another ad.
Ive owned the car for almost 5 years. title in hand no liens.
Current Bid : $48000.0